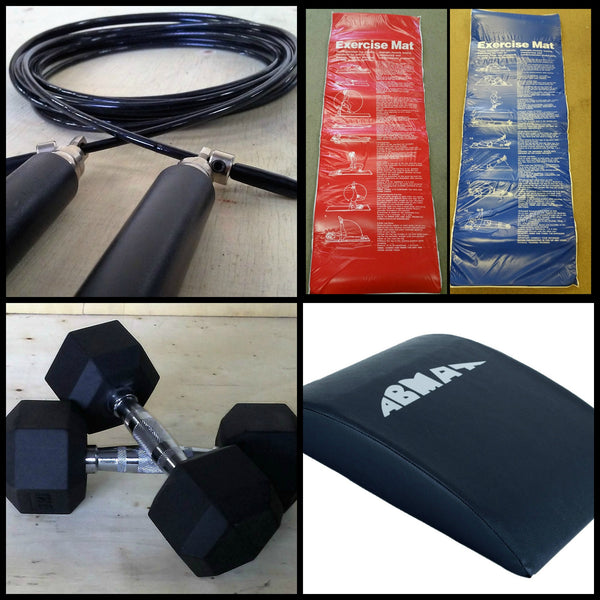 PowerFit "Smart" Training Package
Product Code

:
Our Smart Training Package is perfect for at home or on the go workout routine. 
Smart Training Package Includes:
Smart Mat: Features 16 different exercises printed onto the mat, portable so you can bring with with you anywhere to get a quick workout anytime, easy fold up and carry so you can bring it with your gym bag, overall dimensions 76″ (L) x 24″ (W)
Ab Mat: A compact, portable design that requires no setup or tear-down, comfortable design contoured to your lower back to provide support and to help prevent injury, conduct a variety of exercises that isolate upper and/or lower abs, as well as the obliques and lower back muscles.
Pair of 15lb Dumbbells: One-piece cast heads with steel inserts, Pinned, press fitted, and welded, Hexagonal shape prevents dumbbells from rolling, Ergonomic handles for comfort while working out, Each handle is knurled for maximum comfort and grip.
Adjustable Speed Rope w/ tool: Adjustable to any desired length, portable, rotating handles so rope will not tangle, braided stainless steel rope encased in a durable plastic vinyl coating.