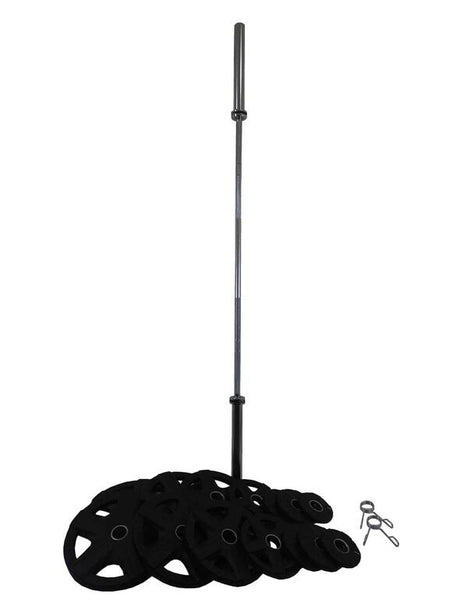 Olympic Barbell and 300lb Five Star Rubber Grip Plate Set
Product Code

:
300lb Olympic Barbell and Rubber Grip Plate Set includes
1 45 lb PowerFit OB86 Olympic Barbell 

2 Spring Collars

2.5 lb Rubber Grip Plates x 2

5 lb Rubber Grip Plates x 4

10 lb Rubber Grip Plates x 2

25 lb Rubber Grip Plates x 2

35 lb Rubber Grip Plates x 2

45 lb Rubber Grip Plates x 2
Olympic Barbell Details
The PowerFit OB86 Standard Olympic barbells are perfect for people who want the features of an something simple to do traditional slow lift. These bars are a 20kg Alloy steel barbell with a capacity 1000 lbs.
OB86 Standard Olympic Barbell Specs:
86-5" Overall length

Weight: 20kg/44lb

Grip: Diameter: 28mm

Grip Type: Dual knurled grips

Center Knurl: No

Knurl: Moderate

Knurl Markings: IWF & IPF

Weight Sleeve Length: 15-5" 

Spin: 4 Brass bushings

PowerFit Logo end cap

Snap rings on each end cap

1000lb cap

Tensile Strength: 190K PSI

Shaft & Sleeve Finishing: Chrome
Rubber Grip Plate Details
Our durable, Rubber Coated Grip Plates will provide years of trouble free performance without cracking, fading, or damage to floors and equipment. Solid steel insert ensures a precision fit for a more effective workout tool.
With the multiple grip features, this allows users a wide variety of hand help exercises, so let your imagination run Wild!
*Warranty against bending does not cover any bar which has been damaged due to negligent or faulty use.  Negligent  use includes abusive dropping of the bar (i.e., dropping the bar on a box, bench, spotter arms or pins in a power rack, excessive dropping with insufficient or damaged bumpers, or excessive dropping with iron plates, and similar usage).