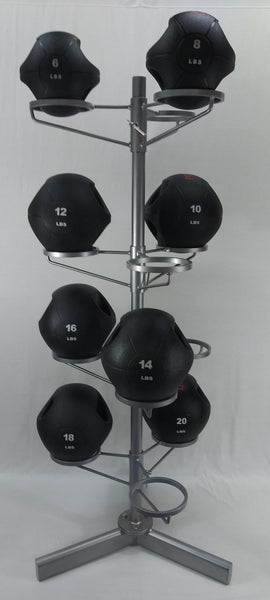 Full set of PowerFit Dual Grip Medicine Balls with Vertical Medicine Ball Rack
Product Code

:
Dual Grip Medicine Ball Specifications

: A simple yet effective solution for your total body conditioning needs that offers the ultimate in versatility. From upper and lower body strengthening and toning to core and lower back conditioning.
Add air to increase the bounce and add variety to your workout

Thick walls increase durability & extend the life of this ball

Textured surface for better and more comfortable grip

Bold color and easy to read weight stamp
Vertical Medicine Ball Rack Specifications: The PowerFit Vertical Medicine Ball Rack is the ideal space saver for any commercial or residential space. Constructed from heavy duty steel and coated with a rust resistant finish. This rack will hold up to 12 medicine balls.
Product Dimensions: Ball clearance of 12" (H) between each level

Assembled Dimensions: 22" (L) x 26" (W) x 63" (H)

In box: 69" (L) x 30" (W) x 7" (H)

Product Weight: 88lbs
Full set of Dual grip medicine balls include: One 6lb, 8lb, 10lb, 12lb, 14lb, 16lb, 18lb, and 20lb.