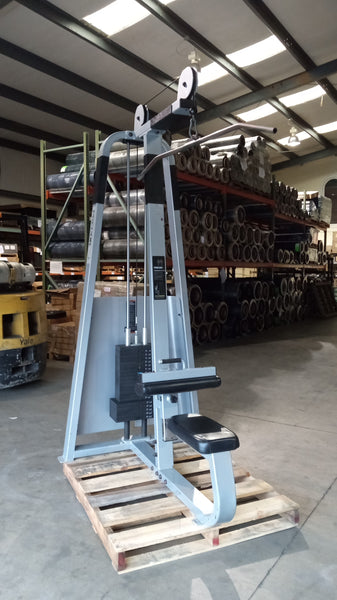 Precor Pulldown 304 (USED)
Product Code

:
The versatile Pulldown modular station can be used in an Icarian® modular system as a plug-in station, or as part of a tandem modular core. The pulley on the Pulldown is located so that users may perform the movement in front of the head comfortably. The thigh pad adjustment accommodates a wide variety of users and the handles can be easily interchanged. 
With attention to biomechanics, comfortable touch points, and easy-to-use adjustments, our Icarian® Strength Line helps members of all abilities benefit from the value of strength training.
Product Features
Traditional cable based lat pulldown
Weight stack up to 250lbs
Additional thigh stabilization 
Simple, durable design
11 gauge (.120"") and 7 gauge (.188"") 2x4-inch bent electroweld steel tubing. The five-stage material prep/wash process if followed by an electrostatically applied, heat-cured powder coat.
 Product Dimensions

73" L x 43" W x 92" H 
Weight 545
*Please note that this is a used product and will feature scuffs, scratches, and signs of use.*