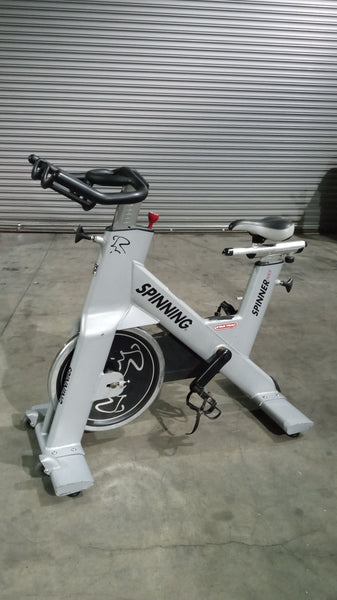 StarTrac NXT Spin Bike (USED)
Product Code

:
The Spinner© NXT combines user-focused features with a high degree of adjustability to deliver best-in-class performance for riders of all shapes, sizes and abilities. To maintain uncompromising quality ride after ride, the Spinner© NXT features an extra durable crank system, rust-defying materials and rock solid construction. Combine the Spinning© program and the Spinner© NXT with Star Trac's unsurpassed customer service, support and training, and you'll have all the tools necessary to kick your facility into high gear.
Product Details
Heavy-Duty Aluminum Frame offers corrosion and rust resistance.

Plastic rim on inner radius to protect flywheel from rust and corrosion.

Ergonomic Saddle with flexible seat base, double-density padding and anatomical cutout provides comfort for all riders.

Push brake safety system brings flywheel to a fast stop with minimal effort.

No-Slip Grip Handlebars offer dual water bottle holders for ultimate functionality and convenience during the ride.

Oval-Shaped Handlebar and Seat Posts offer extra stability with easy-to-remember

Alphanumeric markings for the returning rider.

Micro-Adjustable Seat Slider delivers maximum fore and aft adjustability with easy-to-remember numerical markings.

Dual-Sided Pedals with larger platform and SPDTM compatibility provide enduring comfort and stability.

Crank Assembly with increased strength provides dependable performance for every rider.
Product Dimensions
53.9" L x 20.6" W x 40" H

113.5lbs
*Please note that this is a used product and will feature scuffs, scratches, and signs of use.*