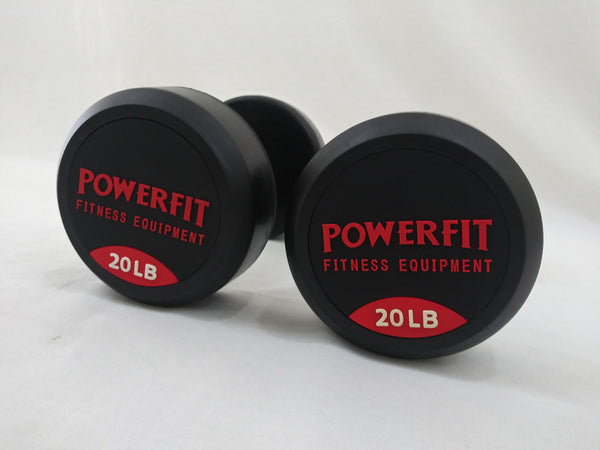 PowerFit Round Rubber Dumbbells - Pricing is for a Pair
Product Code

:
Their compact design makes them shorter in length and easier to handle than conventional dumbbells. Durable rubber coating prevents damage to floors and equipment. Strength train with our PowerFit Round Rubber Dumbbells, designed with ergonomic handles to help reduce cramping in hands, with increased comfort. These dumbbells are ideal for shaping your arms, chest, shoulders, back, abs and legs. The dumbbells feature a high density rubber which increases the long-lasting durability. Execute a wide variety of exercise routines from bicep curls and shoulder presses to lunges and sit-ups! Available in 5lb-100lb sets. Call for details 404-806-7650

One-piece cast heads with steel inserts

Pinned and press fitted

Ergonomic handles for comfort while working out

Each handle is knurled for maximum comfort and grip
Dumbbells are priced as pairs. Rack NOT included.